Perry County Chamber of Commerce
2022 Community Excellence Awards Winners
Author: Allyson Hinson Dickey, Executive Director of the Perry County Chamber of Commerce and Tourism
Date: January 27, 2023
WOW!! We had a BLAST last night at the 2022 Perry County Chamber of Commerce Community Excellence Awards. Allyson and Will, along with the Chamber Board of Directors, Presenting Sponsor The Rogers Group and Premiere Sponsors Bank of Perry County, Buffalo River Review, and Town of Linden, would like to thank everyone for attending. We had a packed house at Linden Valley Baptist Conference Center, who went above and beyond to give us a wonderful evening as always.
Now, without further ado, the winners are:
Volunteer of the Year: Jessie Ruth Tiller
Public Servant of the Year: Blake Ayers
Good Neighbor of the Year: Forrest White
Community Organization of the Year: Save the Children
Educator of the Year: Alison Trull
Student of the Year: Katie Perkinson
Student Athlete of the Year: Carter Counterman
Small Business of the Year: B&H Drive-In
Man of the Year: Wess Ward
Woman of the Year: Angie Williams
Veteran of the Year: Lt. Col. Dan Riley
Town of Linden Employee of the Year: Kevin "Beanpole" Bunch
Perry County Sheriff's Office Officer of the Year: Mike Stockstill
PCSO Correctional Officer of the Year: Sherry Maza
Governor's Star Awards: Melva Dean Mosley and Will Southall
City of Lobelville Employee of the Year Bruce Qualls
A special thanks to Beth Bates and the Miss Perry County Organization for the beautiful table settings and decorations, Kayla Parnell for photographs, Amanda Mathenia for running the AV booth, and Tamara Lineberry for keeping the door! As always, a huge thank you to our winners and nominees for all the work they do to make Perry County a great place to call home.That's a wrap on this one, we will see y'all next year!!
Details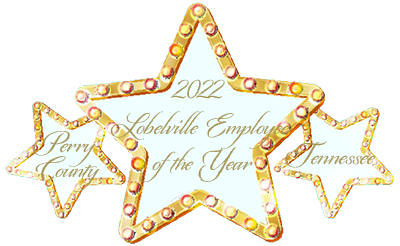 Chamber of Commerce Community Excellence Awards
Details
The Governor's Volunteer Stars Awards is an annual event held to honor the efforts of outstanding volunteers from across Tennessee. Since 2008, Volunteer Tennessee, the Governor's State Commission on Volunteerism and Community Service, has hosted this event with the goal of having a youth and an adult volunteer from all 95 counties in the state represented.