There is no cure for Coronavirus... yet.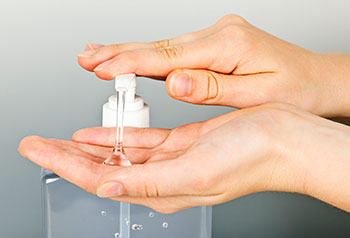 You can use an alcohol-based hand sanitizer that contains at least 60% alcohol if soap and water are not available.
There is no cure for the coronavirus. But there are drugs that can help with symptoms at home and ones that, in a hospital environment, may – or may not – improve the chances of a person who is seriously ill. Vaccines are on their way as well.
The state-of-the-art of COVID-19 pharmacology seems to change by the day.
Medical experts around the world are sharing as much information as quickly as they can as researchers race to find therapies to quell the coronavirus pandemic.
You treat the symptoms as you would that of a bad flu,
Hydrate with water or other clear fluids (the caffeine in coffee, cola, and many teas is a mild diuretic, diminishing the hydrating effect). "People with high fevers can lose more fluids," Miller said.
Pain relievers and fever reducers – including NSAIDs such as ibuprofen – should be fine. A March 11 article in the British medical journal The Lancet raised temporary alarm about the hypothetical possibility of ibuprofen/NSAIDs being a hindrance to COVID-19 treatment. That has since been contradicted by World Health Organization and the Food and Drug Administration. With the exception of patients with conditions that would preclude ibuprofen and other NSAIDs anyway (kidney conditions, high blood pressure, and others), "There's no specific reason to avoid NSAIDs," Miller said.
Lozenges, cough drops, and over-the-counter medicines such as dextromethorphan (Robitussin and others) and guaifenesin (Mucinex and others) can help with the cough that often comes with COVID-19. Dextromethorphan could be the choice for the dry cough that COVID-19 is best known for; guaifenesin that for wetter coughs. Some formulations include both. Again, the idea is to improve symptoms – neither will address the underlying virus.
Sinus congestion and runny nose isn't a typical symptom, but over-the-counter decongestants can help here.
Zinc lozenges may help (or may not) reduce viral replication in the nose and throat, but their effectiveness with SARS-CoV-2 remains unproven.
Those taking ACE inhibitors or ARBs for cardiovascular issues should continue to do so, Miller says, citing a March 17 American College of Cardiology statement that reads, in part, "The continued highest standard of care for cardiovascular disease patients diagnosed with COVID-19 is top priority, but there are no experimental or clinical data demonstrating beneficial or adverse outcomes among COVID-19 patients using ACE-I or ARB medications." The statement does add the caveat that the recommendation could change with a better understanding of COVID-19 on these patients.
The best defense against COVID-19 is prevention.
To help prevent the spread of COVID-19, everyone should:


Clean your hands often, either with soap and water for 20 seconds or a hand sanitizer that contains at least 60% alcohol.
Avoid close contact with people who are sick.
Put distance between yourself and other people (at least 6 feet).
Cover your mouth and nose with a mask when around others.
Cover your cough or sneeze with a tissue, then throw the tissue in the trash.
Clean and disinfect frequently touched objects and surfaces daily.
CDC recommends that people wear masks in public settings and when around people outside of their household, especially when other social distancing measures are difficult to maintain.
Masks may help prevent people who have COVID-19 from spreading the virus to others.